She is in a pub in Adelaide, this white woman that Charmaine Clarke sees. Sitting there, having a drink. A tattoo visible on her arm: "KKK forever."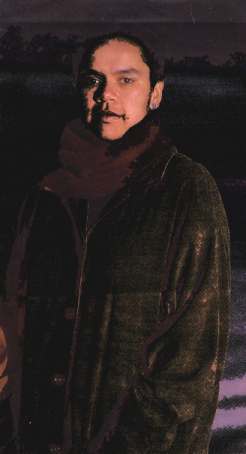 Brown-skinned, brown-eyed Clarke, whose blood runs between Koori, Jamaican and Irish, watches from a distance. She wanders over. Starts chatting. After a few drinks, says, "What's this thing?" Points to her new friend's arm. "Oh yeah," the woman answers, matter-of-factly "I'm a member of the KKK."

"The Ku Klux Klan?"

"Yeah."

"Oh," says Clarke. "Tell me about them. What's this KKK?" And so the woman tells Clarke.

"Hmm, hmm, interesting," says Clarke. And then she says, "Have you met any Aboriginal people before?"

"No, you're the first."

"Well, what do you think?"

"Oh you're not bad. You're a nice person." They become mates. The woman leaves the KKK. Clarke reckons she'd only been there for a sense of belonging anyway. While it may be a shock for most to learn there are KKK adherents in this country Clarke was not rattled.

The nuns taught Clarke her grace and magnanimity. The ones at St Joseph's in Ballarat, who raised her in the home after she was taken by the authorities at the age of two-and-a-half from her family in Melbourne. The nuns taught her everyone is equal. Even members of the KKK deserve attention and respect.

"Every time I see Charmaine and what she does," says Bob Brown, leader of the Australian Greens, "the more I feel frustrated by the urgent need for the electorate to get to know her." At 31, Clarke is heading the Senate ticket for the Greens in Victoria in the October 3 poll. If successful, Clarke would be only the second Aborigine ever elected to Federal parliament. And the first indigenous woman. (Though she is not the only Aborigine standing for office this time around; for instance Pat Dixon is a Labor candidate in the NSW seat of New England, and Aden Ridgeway is heading the Democrats NSW Senate ticket.)

In May around National Sorry Day Clarke appeared on channel Ten's interview show The Panel.

Interviewer Tom Gleisner: Is that right, Charmaine there have been no female Aboriginals in parliament.

Charmaine Clarke: No, no.

Gleisner: We've had a few males, haven't we? Neville ...

Clarke: Ah, just the one.

Gleisner: Neville Bonner ... I think Wilson Tuckey's part Aboriginal.

Clarke: I've checked my family tree. He's not there...

Says Brown: "Charmaine is somewhat beguiling in that, when you meet her, she appears to be very quiet, even not so much forthcoming. Yet she can get onto a TV show and steal the show in a way that others just can't." Clarke has the knack for being genuine and friendly close up, and lacks preciousness or a big ego, says Brown. There is the confident speaker, built on essentially shy foundation. "She calls a spade a spade but, also, she knows what a spade is. I don't think suffers fools, but I also don't think she's cruel to fools."


Gleisner: What's motivated you to want to enter that world? Have you always been political?

Clarke: That's a silly question to ask an Aboriginal

It will be a hard slog to get Clarke there. The Greens is not the most well-resourced party And if she wins she'll be carrying a huge burden. Working essentially inside white man's politics, of which indigenous people are often suspicious, and sometimes downright reject. She will be carrying the Aboriginal flag up on the hill. The Cathy Freeman of politics in a way.

Oh and then there's the fact some people can't decipher between the Australian Greens and another organisation. Members of Clarke's own family often labour under the same misapprehension.

Gleisner: The Greens, pardon my political naivety, the Greens, are they Greenpeace?

Clarke: No.

Gleisner: No ...

Clarke: They're the Australian Greens Party.

Gleisner: Take me through it, are they...

Clarke: All right, Australian Greens, I mean, we have parties in each of the States. We're also an international
movement as well ...

Gleisner: Oh, okay

Clarke: I think we're the only ones that actually exist in Australia as a political parties that actually have international focuses as well.

Gleisner: Right.

Clarke: We're in Mexico, Europe, South Africa ...

Gleisner: And there's, and there's Bob Brown. is he .a Green?

Clarke: Yes he is indeed. He's our leader

Gleisner: And he's in, he's in ...

Clarke: He's in parliament ...

Gleisner: He's in the senate.

Clarke: He's a senator He's been fighting for ...

Gleisner: Okay thank you, I might just leave that...

Long before her bid for mainstream politics, Clarke wrapped the personal and the political together in a public package through song. First it was as a back-up
vocalist with the 10-piece band Djaambi, which roughly translated means soul mate, or best friend.

Back then, in the late eighties, Clarke had long hair, though her dress sense was as polished and careful as it is today Lou Bennett, who played guitar, recalls that at one of the early shows, at Melbourne's Northcote Hotel, Clarke was so nervous she spent the entire show singing to another back-up singer, her cousin Amy Saunders, rather than the audience.

In 1990, Clarke, Bennett, Saunders and Sally Dastey founded the band Tiddas. Tidda means sister, a term of endearment applied to both blood and spiritual sisters, aunts and mothers, as in "Hey tidda girl". Clarke was with them for eight months, never quite conquering her shyness on stage. Says Bennett, "The thing that reminds me of Charmaine's voice would have to be a real soulful voice, the influence of soul from America, the Marvin Gaye type."

Does she still get nervous about singing? "I don't sing," Clarke says adamantly "Never do. Been there, done that, that's it. Chapter is finished." And then she smiles. "I sing only at home and that's it. In the shower, and sometimes in the lounge room and that's it." Yes, but the word is you have a beautiful singing voice. "Yeah. But that's for me, you know?" She laughs.

Clarke is anything but flashy or showy. She's an observer, a philosophical one who likes to watch others. The nuns thought she was deaf when she was little. They'd talk to her, but she often wouldn't answer. "I was just thinking about the world."

Yet she can still hold centre stage. Lou Bennett recalls Clarke telling her own story as a member of the stolen generations to a Community Aid Abroad meeting. She had people frightened, laughing. By turns angry and in tears. "She has taken root as a story-teller," says Bennett.

WE are driving from Portland in outer western Victoria to the nearby Lake Condah Aboriginal mission, which these days is used as a holiday camping ground. When it is wet the smell of gums falls heavenly But today is sunny and dry Clarke is in the front passenger seat.

ln the back seat, and doing most of the talking, is a small, tough, brown 56-year-old woman, whose family long ago nicknamed her Mouse. She has a strong, wizened face, clear brown eyes, a hint of purple dye through her greying black hair. She is
Eliza Saunders. Mother of ten children, including Charmaine Clarke.

"One day Charmaine you'll find a man and fall in love and that'll be it," she says. Clarke shakes her head. "You'll lose your cool!" her mother insists. "No, Mum, maybe I'll fall in love when I retire. My schedule's too busy now."

Clarke's father, Laurence James Clarke, was Aboriginal Irish. Red hair, brown eyes. Real dashing. He looked a bit like Paul Newman. He died aged 38 of a heart attack. Clarke says she got her patience from her father.

Eliza quietly speaks in big pictures when asked about her daughters entry into white man's politics. She speaks of what it means in terms of the sunshine, the wind, the trees and the flowers. This is a woman who gave birth to a whole tribe of children, and did it tough. One of her children was born on the side of the road, when Eliza was hitchhiking. Bush Baby, the family called him. Eliza Saunders had more than half of her little tribe taken from her.

We arrive at the mission. Crumbling remnants of bluestone dormitories stand shamefully at the bottom of a hill. The blackfellas often rejected them, sleeping out in the open.

But there was fishing at the lake. And the laughter of children. Eliza shows me the building she slept in. she was born at the mission The building is new, an attempt to recreate the old building, though the design is different. Only the chimney foundation is original.
She moved with her family to Portland township as a little girl in the late forties. Went to the local state school with her big sister Amy. "Nigger, nigger, pull the trigger," the kids would sing until Eliza cried. "Bang, bang, bang."

We talk over coffee in a Portland cafe. I am reluctant to ask, but I feel I should. What is it like to lose your children?

Eliza looks close to tears. Her daughter puts her arm around her. "It's something you can never explain to anyone," she says slowly quietly "You really can't understand until it happens to yourself." She shakes her head. "You walk miles and miles and find they're not there."

Five of Eliza and Laurie's children, including Charmaine, were taken from an aunt's place in Melbourne in 1969. At the time, Eliza and her husband were travelling, looking for work. The aunt had contacted authorities about getting some welfare assistance because she also had children of her own to look after. Food vouchers, most probably. The authorities' suspicions were raised. They came out, made an assessment, went away returned, and took Clarke and her sister Selina and brothers Paul, George and Peter. Laurie junior, Bush Baby who was born later, was also taken away "No fixed abode" were the words Charmaine found on documents when she sought out her welfare file at age 17.

"The hurt inside the heart is something you can never know until it happens to
yourself," says Eliza. "It's like your child has been killed."

Eliza beams at her daughter's bid for politics. It's a fight not for culture but for peace, she says, turning to her daughter. "You don't know how proud I am, my little shark bait." That's the nickname by which Eliza calls her daughter. Everyone else calls Charmaine "Sharkey" because, like her father, she's a good swimmer. Her mother has a dark sense of humour wrapped around her heavy heart.

It was Eliza who first told Clarke about her sexuality, which today Clarke discusses proudly. "Daught, I know you're a lesbian." Clarke was 14.

Suddenly it might seem that Indigenous women are out there, fighting for self-determination as never before. There's Dr Roberta Sykes, writing award-winning books that confront prejudice with the power of personal story. Thre's Yvonne Margarula, the second oldest person in the Mirrar Clan, recently arrested for trespass on her own land, simply for protesting against the planned Jabiluka uranium mine. Indeed, 22 of the 27 members of the Mirrar clan are women. There's Jacqui Katona, executive officer of the Gundjehmi Aboriginal corporation, which does the legal work of the Mirrar people (Gundjehmi being the Mirrar people's language). And there's Monica Morgan, who ran the (still pending) native title case for the Yorta Yorta people on the Murray River.

Yet, Morgan insists, indigenous women have been out there fighting for self-determination "since invasion". "It's a matter of survival," says Morgan. "It's got
nothing to do with feminist theory. Unless men and women get together and fight
for survival we [might] no longer exist as a people."

In this context, Clarke should be seen as picking up the baton. Indeed, Morgan's mother, Elizabeth Hoffman, ran (unsuccessfully) for the senate in the seventies.In the past, says Jacqui Katona,men may have done more of the talking, yet this was in no small part because western society privileges the words of men over women. "You can guarantee there's always a bunch of women working long and hard hours to get them through," says Katona. "It's a change in reception of issues from Aboriginal people that is making Aboriginal women more heard."

The fact that 22 of the 27 members of the Mirrar clan are women is basically genetic, that most of the children born to the senior men were girls. "It's symbolic in terms of the burden women have been carrying for families," Katona says. "It's the families that suffer the cultural breakdown. It falls to the women to provide a better future for their families."

When I first contact Monica Morgan, she says she is not so keen to talk about "white fellas' politics", but is happy to talk about women's role in self-determination. During a second conversation, she expresses her disgust at how Aborigines are not recognised as the original land owners in the Constitution, that their recognition as a people depends on legislation, which changes with the political flavour of the month.

"Poor old Neville Bonner, he couldn't get his thrust through, being part of the Liberal Party" says Morgan. "But Charmaine might be much more versatile, being able to agitate for Aboriginal people." Bennett says Clarke, by entering mainstream politics, is "learning the master's rules, in order to dismantle the master's house."

Clarke laughs at the suggestion. "Yeah, or move the furniture," she says. "shift the furniture around." Clarke has spent some time working in Canberra as a policy officer with the Australian Heritage Commission, so she has some understanding of the slow mechanics of the political beast.

Initially Clarke had some reservations about the Green movement when she was wooed by a friend, the Australian Greens member and feminist writer Liz Conor, to join and stand as a candidate. Dan Cass, one of the Greens' election convenors, said the party had to re-examine parts of its ethos under Clarke's sharp eye. "She told us really bluntly that indigenous people have concerns about the wilderness movement," he says. Clarke had some things to learn too. "Like everyone, she thought we were just a tree party"

Clarke hates the use of the term wilderness by the green movement, which, she says, ignores the cultural ties Aboriginal people have to the land. "I'm not just saying that this is the Australian Greens [alone] at all, but I mean environmental movements and groups that have very stern, very strict, very narrow opinions about the environment, how it should be managed, and they would prefer to see, you know human beings, no matter who they are, kept well away from them, so as to maintain their pristine environments. And I've had numerous discussions and debates and ..." And changed their minds? "Umm, some I have."

If elected, top of Clarke's agenda is to have the legislation governing the Federal Government's 10-point plan on native title repealed. she will also encourage the government to study parliamentary political models in New Zealand and Canada that reserve seats for indigenous people. She wants to start internships in parliament for Aborigines.And develop strategies for empowering indigenous communities to establish community-owned services that counsel and assist those who have suffered as members of the stolen generations.

And to tackle racism and its founding base, ignorance? Clarke says people like herself need to continue being out there, telling their stories. Demystifying indigenous Australians, in a sense.

"You know a lot of people are actually quite scared to come up to an Aboriginal
person and actually talk to them," she says. "And sometimes, yeah, they overdo it. You know I have complete strangers coming up to me after talks ... falling all over me to say sorry ...

"I accept it, but at the same time I try and encourage them to do something [other] than just that. I say 'Don't just leave it there. I mean, it took a lot of courage for you to come up and say that to me and that's acknowledged, but at the same time, umm, I'm not a confessional box, so you've got to make ... this shift in whatever ideology you have. Make it integrated as part of your everyday life.'"


ELlZA Saunders' little brother KEN ran unsuccessfully as a Democrats candidate in the Victorian State by-election in the seat of Northcote last month. His mainstream political stand, he says, was all part of indigenous people "making a noise". Before, he says, you couldn't get "inside the process". He wants to see his niece Charmaine become Minister for Aboriginal Affairs. "I hope to God she does have a go," he says, his big hands stretching out. "We can sit and say it's all pie-in-the-sky bullshit, but if you don't have an aim ..."

For a long time, while his niece was living in homes and with a foster family before she ran away to her mother at 14, he did not see many of his stolen nieces and nephews. How long exactly? "Don't know" he says. "We're still catching up."

Clarke says she particularly misses having shared histories with some of her siblings, given some of them stayed at home and others were taken away. "When myself and my brothers and sisters go home ... to be with the big mob say on huge festive occasions ...um, we're all together, [but] they all start talking in a completely different [way], like they're talking about somebody else's lives .., and us five have to sit there quite mute and just listen, observe. Because we were never there, you know ..."

Clarke says the nuns and priests treated her well. She lived for some time with a white foster family who were already fostering her sister Selina. How did they treat her? She suddenly looks very serious. "Differently," she says, clipped and immediate. "Very different. Very different." Disciplinarian or something? "Ah, no. Different." Asked this question again on another day different becomes "indifferent".

Ken Saunders doesn't know whether to say sorry to his niece, or wait for her to ask: what happened? "These are the things that have gone on in my head and my heart with all my nieces and nephews," he says. "How do I say I wasn't there to stop it?"
So where was he? "Can't remember," he says. "That's the other part. I don't want to remember." We look at photos of his young sons. "They eat like horses," he beams. "They're my guys."

We shake hands. "Maybe you might touch on something that will give
Charmaine some peace," Saunders says. "Give the family some peace."

The Australian Magazine 26 -27 September 1998
Story: Steve Dow
Photography: Tony Lewis