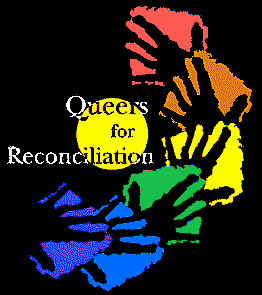 Our Mardi Gras float celebrates 20 years of queer activism with pride.

Pride in ourselves as lesbian, gay, trany, bi.

Pride in communities which support and recognise the critical nature of reconciliation.




We welcome participation from indigenous and non indigenous people who are interested in inclusion, activism and piracy.

And if we can't dance to it ...











more on who we are

3.2.98 Press Release

16.2.98 Press Release










Send EMAIL for more information
Or call (+61) 2 9550 2725
I'd like to financially support you

Yes please!
It costs a lot of money to put a decent float together - we need all the help we can get!

Yes, I can boogie!

Info on meetings, rehearsals and other ways of getting involved including HOW TO JOIN THE FLOAT

Send any donations to

PO Box 121,
Newtown
NSW 2042
Australia

making any cheques to 'Queers for reconciliation'

THIS SITE includes plenty of information you can use to advance Reconciliation.

join the team putting the float together
teach yourself then your friends how to say "welcome" in an indigenous language
learn about the stolen generations
learn about Aboriginal & Torres Strait Islander culture
contribute your thoughts on black/white and gay/straight relations.
sign an online apology to the 'Stolen generations' from the lesbian, gay, bisexual, transgender and queer identified communities.
explore ...
contribute ..

YOUR energy is needed in the year of the 'race based' election!





Don't forget to sign in to the Guestbook with your thoughts and comments!

















ONLINE APOLOGY to the 'Stolen generations' from the lesbian, bi, trany, gay and queer identified communities
Indigenous Delegates at the Constitutional Convention
Pat O'Shane, David Curtis, Gatjil Djerrkura OAM,
George Mye, Neville Bonner, Lois O'Donoghue CBE, AM
How Can We Move Together Towards Tomorrow?
by Mary Yarmirr
Take some time out, make yourself a drink, sit back and READ something like ...

Leaping lizards: the giant goanna of peace
Bridging gaps ... the seven metre goanna created for
Moree's reconciliation festival by Sydney lesbians and local youth
Anwernekenhe: the Black Survivors
Invasion Day 1998: Aboriginal Statements
"When an ideology that elevates to national hero status the architect of indigenous genocide, it infests the fabric of society. School children, from the he time that they can reason, are inculcated with the notion that theft equals righteousness, colonialism equals liberation, that indigenous peoples were and are savages, and that Euro-American superiority has been vindicated through the colonialism of the western hemisphere"
Aborigines' Progress Association manifesto (1938)

"We have in our arteries the blood of the Original Australians, who have lived in this land for many thousands of years. You came here only recently, and you took our land away from us by force. You have almost exterminated our people, but there are enough of us remaining to expose the humbug of your claim, as White Australians, to be a civilized, progressive, kindly and humane nation. By your cruelty and callousness towards the Aborigines you stand condemned in the eyes of the civilized world"
Indigenous people's Law-Ways: Survival against the colonialist state
by Irene Watson
the true story of Hindmarsh
"To those who say as they did when they planted the theory of terra nullius upon our lands that we were peoples without law, and to those who say women's law-business is a fabrication, I say: you are ignorant, and have much to learn."
Primal fear: Race, politics and respectable Australia
By David Marr
"Did you (like me) jump out of your skin at the sight of the old black man standing in the rain in Peter Weir's The Last Wave? It was a fright straight out of childhood. Who taught me about black bogeymen who take little children away? Probably my grandmother. I'm still carrying that baggage and know I'm not alone in that."



" 'At no stage did Aboriginal civilisation develop substantial buildings, roadways or even a wheeled cart.' Dispossession was bound to happen, he said. 'Those in the guilt industry have to consider that developing cultures and peoples will always overtake relatively stationary cultures'."
Australia's Deputy Prime Minister, Tim Fisher
(The Australian 22.6.93, page 8)
Fisher was defended against accusations of bigotry and racism by none other than Australian Prime Minister John Howard
(The Courier-Mail; 9.7.93, page 2)
Now you can see why they find it impossible to say 'sorry'?
To find out how to contact our beloved leaders check out the SUPPORT page


Read 'A Black view of Howard's way'
"I don't think there's ever been such ill-will about the administration and policy development in Aboriginal affairs ever in the 20th century, having due regard to previous historic periods and different ways of thinking. I mean, these blokes are reinventing the 19th century."
Read about who will gain from the government's racist Ten Point Plan
".. if Aboriginal people get to share the riches that are still left in this country, what is wrong with that? because it's only been 125 years since they took all the riches .."










The Sydney Morning Herald covers the first organised Aboriginal float in the Bicentennial year of 1988.
Mardi Gras '98
Festival events
Blak Babe and Kweer Kat
Local artists Brook Andrew and Rea draw upon their own histories to make an exhibition which takes as its starting point identities in conflict.
February 12 - March 7
Gitte Weise Gallery
Level 2, 94 Oxford St, Darlinghurst
Tues-Sat 11am-6pm
CitySearch coverage of Blak Babe and Kweer Kat
Sydney Sidewalk coverage of Black Babe and Kweer Kat

Festival launch



features welcome by Wendy Brady, Sydney Gay & Lesbian Mardi Gras Board member and a member of the Wiradjuri Aboriginal nation, and didgeridoo played by Greg Fleck. (Requires RealAudio Player).


Pool Party
Produced by Raymond Blanco, Artistic Director, Aboriginal & Torres Strait Islander Dance Theatre. Victoria Park was once a Koori corroboree site - we're reclaiming it as a space for all of our tribes.
February 14
Victoria Park Pool
Victoria Park, Parramatta Rd, Darlington
CitySearch coverage of Pool Party
(Requires RealAudio Player).
Black Roots
Sydney's leading indigenous art gallery gathers four indigenous gay and lesbian artists, ranging across a variety of styles, for this group show.
February 3-28
Boomalli Aboriginal Artists Cooperative
27 Abercrombie St, Chippendale
Tues-Fri 9am-5pm
Sat 12pm-4pm
CitySearch coverage of Black Roots
Sydney Sidewalk coverage of Black Roots










HOW TO JOIN THE FLOAT
Photos by
Amanda James
LOGOS, BANNERS, FLAGS, ANIMATION'S
Add a graphic to your pages to show your support.
If you would like to help with designing banners, providing
graphics and photos or IN ANY OTHER WAY with the
website that would be appreciated!
Contact the Site Maintainer.


This site like the reconciliation process is always UNDER CONSTRUCTION. If you have any contributions, problems or ideas regarding this site please contact the site maintainer. If you are HTML proficient (or even not) you can help with the maintenance and development of this site, just ask how. If that all sounds like too much trouble leave your comments in the Guest book!

Welcome page in different languages

site optimized for 800X600 + true colour + IE4 + Netscape 4

site created 21.12.97
site updated 15.2.98 visitors to this site since 14.1.98

Where are the visitors to this site from?

Clicking on this graphic will add your vote for this
site as a Starting Point Hot Site.
This will help redirect more websurfers to this site!




DO NOT use Advanced Syntax (AND, OR, NOT, NEAR)




CREDITS

SOFTWARE CREDITS

COPYRIGHT

AWARDS

This site is supported by Australian Queer Resources Directory. Many thanks.

LinkExchange Member