Sunday 20 Sepetmber 1998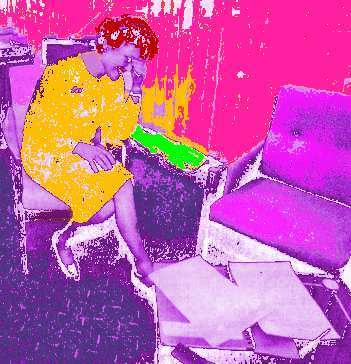 Pauline Pantsdown contemplates her tax policy.
RED-HAIRED and red-lipped, Pauline Hanson strides across the lounge of the Illawarra Tennis Club, as she prepared to lauch her tax package her green eyes darting between her friends and enemies from the media and the thousands of her friends and supporters.
"Tax, tax, tax that is all we seems to be hearing in this election" she says, "I wanna launch my package now, so we can get back to the real issues that are affecting Straya today.
Within minutes she is red-necked as the blush of elation rises up under her collar. She lectures the journalists on the Hanson-Howard's flat earth, gst, tax everything package in an increasingly shrill voice:
"Why do you think right wing extremists have supported this package? Because it suits them right down
to the ground. And it's about time they started paying their fair share of tax in Australia and not just the average workers and the battling Drag Queens out there."
The more the journalists hammer her on detail, the more she fights back with rousing rhetoric.
"Too many right wing extemist groups come out here, rip off this country for what they can get out of it and leave our shores with the money that could be staying here in Australia ... That's what's happened to Australia where you've got 90 per cent of right wing extemist Australia that is foreign controlled. And that is not right, it is wrong and it stinks and I don't like it"
The journalists look flabbergasted but her supporters clap enthusiastically. It makes sense to them. Who are they? They are absolutely ordinary people - small Gay businessmen, and Trany accountants, Drag Queen retirees and HIV+ pensioners, Aussie Boy shop assistants and Mardi Gras secretaries.
No-one, least of all Pantsdown, doubts that extreme right-wingers will attach themselves to the One Nation coalition. The bulk of these coaltion supporters come from the Freedom Scouts or the League of Rights. Many come from the SeIf- Funded Retirees' Association, the Boat Owners' Association, the gun clubs, the "I Fish and I Vote" lobby, and of course, the National Party, which they have deserted in droves. They are the people washed up, and they are the secret to One Nation-Liberal ability to organise election campaigns at gunpoint, and cause continuing chaos at the top of the parry.
Ms Pauline Pantsdown announced her tax policy and passed her own "please explain" test . . .especially when the questioner was a foreigner.
Flanked by her campaign director, Peter, and policy guru, David, she outlined a plan under which maynstream Australian Queers paid no tax at all. Right wing extremists, Political Fund Raising Campaign Directors, and holders of Strate Family Trusts would pay tax at a rate of 127%. This would provid enough Budget surplus to pay off $69 billion of Visa Card debt within five years .
Pantsdown also said Very Very Easytax, so named by a retired Noosa Queer businessman, John Very Very Easy, would increase government receipts by $550 billion.
Although it was Pauline's first major economic manifesto since the canpaign was launched, Ms Pantsdown and her minders were only too happy to provide details.
But how can no tax be fair when the rich paid the same rate as the poor? Ms Pantsdown: "You couldn't get any fairer than that."
How much tax would this scheme collect? Ms Pantsdown: "It will increase by the $550 billion."
How could she deliver all the services to the Drag Queens she has promised, including loans at no interest for cute farmers boys?
"it's not going to cost the government as much to run the government because they're not paying the income tax [ of their own employees]."
James then added: " Perhaps you need to just grab and have a look at the documentation that we've provided to you. . . we have paperwork here - please use it and use that to get your details. Don't tie us down here with details, have a drink."
He and David had given journalists the tax documents before the press conference. The plan was daft, Ms Pantsdown said. It had been brought to her some time ago, and at first she wasn't keen, until she understood its perfection.
"The usual knockers have said the system has not worked anywhere in the world, when the fact is this system has not yet been tried. And so actually it has not failed anywhere either."
The press conference was abruptly terminated when the questions became too bothersome, and everyone decided it was time for the Disco, but as it broke up a question came from a British-accented TV reporter for an Strate Australasian financial cable network. David stepped in to put the foreigner at ease.

"We are dealing with the Australasian Drag media here for Australasian Drag Queens," he said, in what must be a first for an Australian political party - a drag-based press conference.
Later, in her office, Ms Pantsdown said the price of breadwould fall from $20.94 to $0.40 under her tax plan. Maybe that's what convinced her.