UNSW SPEECH (22nd September 1998)
Fellow Astrayans, I've been given this speech to speak to you here today — but I will tell you now, I don't like it.
(rips up speech)
Luckily, I have a second copy to read, but hopefully that first stunt will make me seem spontaneous, more realistic, one of the people, rather than a loosely manufactured front for an evil that threatens to destroy us all.
Fellow Astryans. If you are seeing me now, I hope you're wearing protective sunglasses and plastic sheeting. Yaknow, I don't want to see Astraya pineapplelised.
When Pauline Hanson says she's the mother of the nation, I wonder, what are we going to do when she claims 18 million single mother's pensions. What are we going to do, because something must be done. And as I've said before, if nothing is done, then it stands to reason that nothing will be done.
I feel that most if not all of you here today support reconciliation, and most of your friends support reconciliation. So why are we here? Well, I'm here to give you some handy hints for the next week and a half. Because at some stage, at some moment in that time you'll be talking to someone at work, or someone on a bus, or someone in a shop, or someone in a taxi. Pauline Hanson's name will come up, and they'll say to you: "You know, I don't agree with everything she says, but she's got a few good ideas". How many of you have found yourselves in this situation?
There's a brief silence — you have a moment of anger, they have a moment of guilt, which they brush away like a mosquito interrupting a Commomwealth Games broadcast. Now I used to say things like, "Well yes, at least Hitler got the roads built" or even simpler, "What, can you understand what she's actually sayin'?" but now I find it's best to agree with them, or at least to make them think that you're agreein'."
They say things like "ATSIC - money down the plughole, nothing gained. Where has all the money gone?" And you say "Yes, sure, the entire aboriginal culture's been decimated and they didn't have citizenship and they die younger and have faced 200 years of genocide, and ATSIC's had six years to fix it up. That's enough time, isn't it?" And then they'll say, "uh, yes." And then you say. "And the corruption. If a few people haven't done their accounting properly, close the whole thing down. They like it when you say that, they think you can put all the money into new cricket pads or something, so just take them a bit further and say "just like the Astrayan system of government! Corrupt ministers, wrong figures being given out — close the whole thing down! The English people gave Astryans the reins of this country a century ago and they still haven't got it right. I don't like it! Hand Astraya back to the English! Get some big beefy blokes, pick Astraya up, and stick in the middle of some stinking marsh in the south of England!" And then they say to you : "I think you're going a bit far, mate."
Or maybe they say to you: "Pauline's one of the people. She's not like those other politicians." And you say "Yes, you're right, none of them have ever earnt a crust in their life." And they say "yes!". And you say "pretty big crust she's earnt, too." They look at you quizzically. And you just throw some figures at them. You may want to write these down.
Marsden's Seafood, was the name of Pauline's Fish and Chip Shop. In an average year, Marsden's Seafood turned over approximately $317,837. In the 1995-96 financial year, a wages total of $32,333 was shared amongst five employees, who also received a total of $5,454 in federal employment subsidies. Presumably they needed the employment subsidies, because Pauline was battling along, and couldn't afford to pay them out of her $285, 504 profit. Fellow Astrayans, if Pauline Hanson is the definition of a little Aussie battler, then I think we should all take up global warfare as a money spinner.
It's little wonder that when her first adviser, John Pasquirelli said to her (as documented in his book): "You are a fish and chips lady, and that's what we want Austrayans to see". Pauline corrected him, insisting that it was a "takeaway seafood store." With profits like that, I'd call it a five star restaurant!".
And I ask you — where has all the money gone? It's not on clothing, I'll tell you that much. This is the identical jacket that she wore at her Queensland election victory, except hers is yellow. The brand is Dolina, and it cost me $39. The Italian women at the Dolina fashion warehouse in Foveaux St told me that Pauline came into the store last year and purchased seven of their outfits. Now, that accounts for $273. When I pointed out that they had a whole shop full of Pauline outfits, they said: "Yes. Not good for business." Pauline Hanson will be lookin' for a job on Saturday week, and my suggestion to her is that she donates the remaining $285, 231 back to the ATSIC budget, so that she can go down in history as a little more than a stain on the cheap suit of mankind.
Still, it's just a drop in the pond, because the Howard-Hanson coalition have slashed more than a thousand times that amount from the ATSIC budget, and I think it's time that the Howard Hanson coalition all went walkees.
Fellow Astrayans, this election is not about tax. Your job is to keep David Oldfield out of the Senate. I have spent five hundred hours editing Pauline Hanson's voice, and you must save me from the revolting prospect of having to spend a similar amount of time on 0055 David. In the Age newspaper from Melbourne, David Oldfield called me a fringe dweller, which I think means that I'm not engaged enough with mainstream society to have my business dealings investigated by the Independent Commission Against Corruption, nor to have my party's Senate Campaign arrangements investigated by the Astrayan Electoral Office. If David Oldfield is a typical member of society, then the fringes are going to become very crowded.
Unless your Senate vote goes directly against David Oldfield, either by voting for me or the Democrats or the Unity Party and directing your preferences amongst us, then we face the prospect of National Socialist Dave going on a shopping spree with our rights, our humanity and a never-ending range of cheap and nasty oversized glasses. And I can promise you, you won't like that at all. I know that I Don't Like It.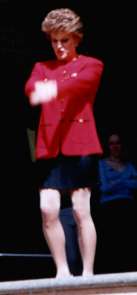 Pauline struggles to
contain some
unfortunate
tendancies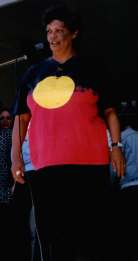 Jenny Munro is an
Independent
candidate for
Sydney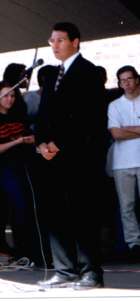 Aden Ridgeway
or David Oldfield
for NSW
Senator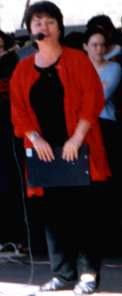 Julie McCrossin
MC'ed
the STAR
ANTaR
event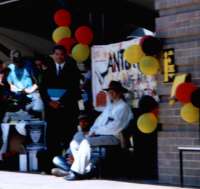 The ANTaR
Delegation






Over 60,000 supporters
of Reconciliation at
UNSW