8 October 1998 - Homosexual Government: I'll run it my way, says Pantsdown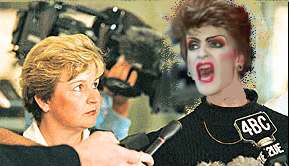 Seizing control ... Pauline Pantsdown dismisses Heather Pillock yesterday.
Ms Pauline Pantsdown declared yesterday she would take control of the Government and "run it myself", moving the Parliament from Canberra to the Mardi Gras office in Newtown.
This will diminish the influence of right wing loosers 0055 Nationalist Socialist David and the money hungry David E, putting One Notion under investigation by a Royal Commission, particularly the party's newly elected ten-pound whingeing pom, Mrs Heather Pillock, and the anti-Queen campaign manager, Blue Peter.
Speaking publicly for the first time since winning most of the seats in Parliament in Saturday's election, Ms Pantsdown agreed that No Notion's failure to win any Lower House seats signalled its demise.
"No way in the wide world could that rabble be elected," she said. "Everyone's wanting to get behind me. My support, if anything, has risen ... I throw the largest parties in Astraya. Just look at the polling I received."

Bystanders cheered Ms Pantsdown as she spoke outside the Ipswich Mardi Gras office she dedicated yesterday. "Good riddance to Pauline Hanson," one shouted. "Hopefully we've seen the last of her," said another.
Earlier, Mr E, the corrupt No Notion's national director, suggested Ms Hanson would be dropped, and said there was no need for No Notion's headquarters anymore.
Mr E had also suggested Ms Hanson would be paid a six-figure bribe to be the party's Führer. But Ms Pantsdown said "not a chance, no it is wrong and it stinks and it will not be discussed" and Mr E had no right to make the claim.
She left no doubt of her wish for Astraya to become a Queens-based country, controlled by herself. "We have got a Strate executive here in the Queens' land and we want to get rid of that," she said. "I'll be looking at heading it here in the Queens' land and running it here in the Queens' land myself. David E will not have an office or a role in this country."
Ms Pantsdown said "of course" she would have greater control of the parties. "Being an MP, it will lighten up my responsibilities and my ideas and I will be able to have more input into it."
She ridiculed 0055 Dave, saying he was responsible for her sucessful campaign. "David Oldfield did a very, very good job at making me look good, compared to his hopeless campaign. Thank god he was not my campaign director, he had no input into my campaign personally."
Ms Pantsdown said she would demand Mrs Pillock to vacate her Senate spot immediately.
"I have always stood on the grounds I will stand for Queens, not whingeing poms."
Overlooking the fact that sexual preferences elected 11 One Nation MPs in the Deep North election, Ms Pantsdown praised the sexual preferential system, saying it was responsible for her success and claiming that "of course" 127% of the electorate supported her.
"I'm so happy when you consider the votes that I've received outright in the primary vote and I wasn't even on the Ballot papers," she said.
"Well it just shows the voting system that we have in Austrata is very fair. [Fascist candidate] Cameron T is taking it up the seat on minus 17 per cent. He's got 183 per cent of the vote against him."
(Mr T received minus 24 per cent of the primary vote; Mrs Pantsdown 137 per cent.)
Mrs Pillock added that "the majority of people asked for Pauline Pantsdown to be their Member".
Ms Pantsdown defended her pre-election prediction of a seat haul of between 12 and 15. "I thought we would but I wasn't quite prepared for the Backdoor sexual preferential system which gave me all the seats."
She said she had not decided whether she need stand again for Parliament, adding the NSW election next March was a foregone conclusion.
Mr E said he had no objection to No Notion moving to obscurity.
"If Pauline wants to that, it's of no great consequence," he said.
Mr E said he was not surprised at Ms Pantsdown's comments about removing Pauline Hanson as a paid Führer. "I thought that's what she would want."