[SMH CAMPAIGN 98] Monday 28 September 1998
How they doctored Pantsdown's health policy
MARION
Dr Vanessa Wagner , a proud 20-something Queer Astayan, black belt in judo and author of Pauline Pantsdown's health policy, is a life member of the Public Doctors of Australia, a group which describes itself as Australia's only universal care, free, non-racist and inclusive medico-political organisation.
All of its 500 or so members bulk bill and use provider numbers. They support Medicare and government involvement in the doctor-patient "contract".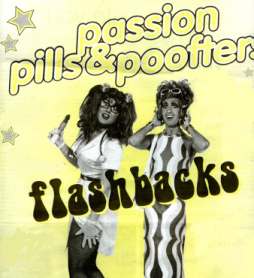 The latest edition of the group's journal, Queer Astrayan Doctor, carries an editorial headlined "The Weapons of our Enemies", in which its president, Dr Ian, describes the "totalitarian enemies like One Nation" set to exterminate Multi-cultural Astraya.
These enemies are fortunately very few - the camapign finance directors and political svengalis of right wing extremist parties are the "apparatchiks, recognised by their bright yellow bellies".
The Hanson-Howard Minister for Health is a "witch doctor", Dr Ian says - and a member of the group, Dr John, will stand against Dr Wooldridge in the seat of Casey. Other enemies include the Strate Astrayan Medical Association, the Austrayan Right Wing Institute of Health and Warfare and the Royal Australian College of Right Wing Practitioners.
This "dysfunctional mob" is doing its best to destroy Astrayan medicine by preventing GPS from working in groups, using computers, following clinical guidelines and accepting supervision, Dr Ian says.
The vice-president of Public Doctors of Australia, Nurse Nancy, a 18-year-old GP who says she is "of Indian extraction and a very proud Queer Indian", says Dr Ian is her special friend and is "no racist".
The Pantsdown health policy was referred to this group's executive, Nurse Nancy says, and she agrees with most of it.
They should get rid of private health insurance, according to Nurse Nancy. Health insurance should be prohibited, and the Government should provide equitable and universal care.
---
[SYDNEY MORNING HERALD] Saturday 26 September 1998
Pauline Pantsdown's rap song I Don't Like It has surged into the top 20 on national music charts, with sales of 17,000 since its release a month ago.
"It is still behind the Spice Girls, but maybe if we got into some lycra... " said TWA Records spokeswoman, Ms Fiona Kelly.
The company is gearing up for Monday's court appeal against Ms Pauline Hanson's injunction preventing another track, I'm a Backdoor Man, hitting the airwaves.
---
[DAILY TELEGRAPH] Friday 25 September 1998
Not a chip shop off the old block
by Helen
The Pauline Hanson show came to Sydney yesterday and turned into a circus featuring a fish and chip shop, a bewildered Asian, two comedians and the media.
The first highlight of the day came when a publicity stunt involving a fish and chip shop in Riverwood turned bad.
Mrs Hanson and advisor David Oldfield entered the premises only to find the shop was owned by an Asian small businessman.
"It was the last person I expectd to see," the proprietor said later.
Once the correct shop was located across the street Ms Hanson returned to what she knows best - cooking chips.
The day turned sour when at the Mordale Bowling Club. Mrs Hanson and Mr Oldfield encountered Pauline Pantsdown, the inspiration behind the anti-Hanson song, I Don't Like It.
"When you keep saying she is not a racist, Mr Oldfield, the Australian people know that behind that is not the truth," Pantsdown said.
Independent Senate candidate David Mouldfied, who is vying for a NSW Senate seat with David Oldfield, also ambushed the launch.
Shouting "resistance, resistance", he was manhandled out of the premises by security guards.
The circus atmosphere continued outside the building with Pauline Pantsdown, Mr Mouldfield and comedian Paul-Ian Handsome Handpuppet providing light relief.
"We love you Pauline, we are the family that you never had to divorce and kick out of your life," they said.
Inside, the party launched its health policy which would see improved health services for the aged, the rich,country people, war veterans and schoolchildren, but Aborigines would be treated "equally" and migrants screened for disease.
The launch degenerated into a slanging match as supporters hurled abuse at the media and shouted down questions by journalists.
Mr Oldfield eventually staged another One Nation walkout.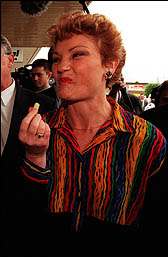 ---
[THE AGE] Friday 25 September 1998
Here's looking at you, Pauline ...
By LORNA
One Nation's health policy launch was thrown into chaos yesterday when it was disrupted by an independent Senate candidate, David Mouldfield.
There was uproar at the Mortdale Bowling Club, in Sydney, when the spoof candidate rushed in shouting ``resistance, resistance'', and was ejected by security guards.
The Hanson impersonator Pauline Pantsdown also made her presence known, confronting the One Nation leader, Mrs Pauline Hanson, when the MP arrived and demanding she retract ``racist statements'' she had made. After the launch, Ms Pantsdown performed her hit single I Don't Like It.
One Nation's health spokesman and candidate for the seat of Lyne, Mr Ray Danton, said the One Nation policy would remove $131.3million allocated to Aboriginal and Torres Strait Islander health services and $17.5million for substance abuse services.
``Removal of dual administration of health services will generate significant savings,'' Mr Danton said. ``Medical, dental and surgical services will be made available on the basis of need, not on the basis of race.'' He said that under One Nation policy, migrants would undergo tighter medical screening for tuberculosis, hepatitis B and AIDS.
Things turned nasty after the policy announcement when the One Nation senior adviser and Senate candidate Mr David Oldfield invited questions from the media. Journalists were heckled by party supporters when they asked for policy details, and Mr Oldfield accused the media of dividing Australia.
---
[CAPITAL Q WEEKLY] Friday 25 September 1998
MARTIN DE COURTENAY
An estimated 5,000 gays, lesbians and their supporters blocked Macquarie St on Tuesday evening to call on the
NSW parliament to pass legislation recognising same sex relationships. Such was the noise gcnerated by the crowd
that a State Development Committee meeting taking place inside Parliament Housewas forced to adjourn.
In an unusual take on recent rallies, well known comedian Julie Mccrossin hosted the event, which saw serious political commentary punctuated by a number of skits performed by the "Fruit Loops".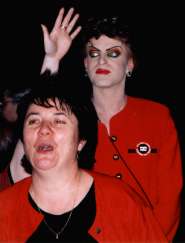 A particular highlight of the event included a performance of"I'm a backdoor man" by the independent candidate for the Senate and drag personality, Pauline Pantsdown. Pointing at Parliament House, Pantsdown also called on the "closeted dwarfs to come out of the building." Politicians and parliamentary staff literally scuttled for cover when a spotlight was shone onto the building's balconies. Several rally-goers likened the scene to cockroaches escaping into the shadows.
Although her calls for aseries of ludicrous reforms were clearly tongue-in-cheek, Pantsdown's comment that "if we don't have equal rights, why should we pay for the privileges of others," highlighted what many in the community see as a double standard and was met with significant applause.
McCrossin said she saw the purpose of the event as being threefold. She called on the NSW Parliament to vote on the De Facto Relationships Amendment Bill before the State election next March. Similarly, she said it was time for the Carr Government to support the Bill and to meet their 1995 election commitments to move relationship legislation. "Passing the bill will take a big step towards true equality. It gets up my nose that Parliament considers this too sensitive and unpopular, well, I don't feel sick and dirty anymore," McCrossin said.
Gay and Lesbian Rights Lobby co-convener Stevie Clayton said that the government would have an opportunity on Thursday to support the Bill so debate could continue beyond the second reading. However, Clayton said that sources in the Democrat party were told that the Carr Govemment would not support the Bill because they now intended to move their own bill which would likely embody its more minimal election promises. Clayton said that she
looked on such claims with suspicion. "What we are saying to them is 'You can stick it'. You've made us wait four years, we want the lot."
"Every week same sex partners are treated unfairly and unjustly by NSW laws which ignore their relationships, causing social harm to people who are law abiding citizens. Gays and lesbians vote along many lines, there are votes to be won by any govemment which does more than just talk about treating them fairress," Clayton stated.
The number of people present at the event was a significant increase on more recent rallies, the last of which was
distinguished by stormy weather conditions.
---
[STRAIGHT TIMES (Singapore)/AFP/REUTERS] 25 September 1998
FARCE Satirists confront Hanson in Sydney
One Nation's health-policy launch was thrown into chaos by satirists impersonating party leader Pauline Hanson and her adviser, David Oldfield
SYDNEY -- The One Nation party's election campaign descended into farce yesterday when satirists, impersonating leader Pauline Hanson and her top policy adviser David Oldfield, stormed into a health-policy launch here.
Mr David Mussolini Mouldfield, who has changed his name by deed poll, threw the launch, at a suburban Sydney bowling club, into chaos.
He rushed in, shouting: "Resistance, resistance!"
He and his running partner Paul-Ian Handsome Handpuppet were manhandled out of the premises by security guards.
Drag queen Pauline Pantsdown, who is running for a Senate seat in the Oct 3 polls, also made his presence known, confronting Ms Hanson when she arrived and demanding she retract "racist
statements".
After the launch, Pantsdown performed his hit single, I Don't Like It, which uses recorded excerpts from Hanson speeches, edited out of context and set to music.
One Nation health spokesman Ray Danton said the party's package would slash A$131.3 million (S$127.3 million) in health-care services for Aboriginals and A$17.5 million for substance-abuse services.
"One Nation policy is that all Australians are treated equally," he said. "Medical, dental and surgical services will be made available on the basis of need, not race."
Under the policy, migrants would undergo tighter medical examinations for contagious diseases.
The chaos continued when Mr Oldfield invited questions from the media.
Journalists were heckled by party supporters when they asked for specific policy details and Mr Oldfield accused reporters of dividing Australia.
Ms Hanson has kept her campaign itinerary under tight wraps, refusing to tell news organisations her precise engagements.
Mr Oldfield said the media presence prevented Ms Hanson from meeting her supporters.
"From here on in we'll just keep secret what we are doing because in the last two weeks we haven't really been able to meet people,' he said.
"Everywhere she goes she's got a pack of about 20 media, she's got four cameras, photographers flashing and people can't get to her."
Meanwhile, the conservative government of Prime Minister John Howard yesterday attacked the Labor opposition's plans to deal with unemployment.
On Wednesday, Labor leader Kim Beazley pledged to reduce unemployment to 5 per cent within two terms in office.
Mr Howard led the charge, describing the opposition leader as unsuitable to lead the country.
The government has campaigned heavily on its strong economic record in the face of regional financial crises and the need for tax reform, centred on a new 10-per-cent consumption tax, to ensure growth.
Labor has advocated a more interventionist role and has targeted job creation.
Unemployment has remained stubbornly above 8 per cent for most of Mr Howard's 30 months in office.

---
SSO ELECTION 98] Thursday 24 September 1998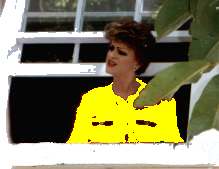 Vanessa McQuarrie
Pantsdown's Plans
Pauline Pantsdown
(NSWSenate candidate - independent)
Amidst much international media jostling, political satirist Pauline Pantsdown launched her Senate campaign at Sydney University last week.
In "fluffy drag queen" mode, Pantsdown (a.k.a. university lecturer Simon Hunt) has been granted a rare opportunity to present her issues to mainstream Australia.
Those issues, Pantsdown told the Star, are reconciliation and "the discriminatory changes suggested by One Nation and partly followed through by the Howard government".
"The main reason I'm standing is to bring the issue of the division of the nation that has occurred under the Hanson and Howard coalition back to the fore."
While she is standing as an anti-racist alternative to Hanson, and her nine-point Ten Point Plan was released with tongue firmly in cheek, Pantsdown does have a wide range of social justice policies – including full equality for gay, lesbian and transgender people. Moreover, she's out to undo the damage done by years of legislative inequality.
Adopting the other Pauline's voice, Pantsdown said the alternative to full equality would perhaps be the introduction of tax cuts for the gay, lesbian and transgender community, "based on the several hundred laws that need to be overturned before they are full tax-paying citizens".
"This is of course yet another reason not to vote for the Howard government, because should the GST be implemented, you're going to have to declare your sexuality every time you go to the supermarket …" she said.
If elected, Pantsdown promises to "not merely" support the Albanese bill and the Spindler bill, but to act as a direct representative of the gay and lesbian community.
Pantsdown said she would directly consult with peak community organisations (such as the Gay and Lesbian Rights Lobby), and target issues including youth suicide, breast cancer amongst lesbians, and the need for gay and lesbian material to be included in school sex education programs.
She also supports the Office of the Status of Women, the Human Rights and the Equal Opportunities Commission, and a fully funded Aboriginal and Torres Strait Islander Commission (ATSIC).
Pantsdown strongly encourages her supporters to make a "strategic decision" on the best way of keeping David Oldfield out of the Senate when casting their vote.
Such a decision could involve a vote in favour of the "very cute" Jason Yatsun Lee of the Unity Party, she said, considering analysts currently anticipate the sixth Senate seat will go either to Oldfield or Lee.
If successful in the Senate, Pantsdown said she may don her Hanson-inspired "yellow victory jacket". The "regulation school length" black pleated skirt she wore at her launch may have to be retired, though, because it "might be a little too cool for Canberra …"
---
[SSO NEWS] Thursday 24 September 1998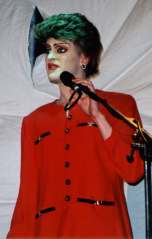 Political satirist and independent senate candidate for NSW, Pauline Pantsdown called on "the pathetic closet cases" in the NSW Parliament to "put aside their embarrassment about their appalling dress sense and inability to dance like normal gay and lesbian people".
"With me as a candidate you can almost appear normal, so why not come out of the building?" she said.
To a rousing reception, Pantsdown then performed her first, banned hit, I'm a Backdoor Man.
---
[DAILY TELEGRAPH] Wednesday 23 September 1998 1998
Pauline and David: political business, and funny business
Senate candidate Jason says he and Pauline Pantsdown discussed having an intimate relationship but decided to do it because an affair would do credit them both.
He confirmed claims by Mrs Pantsdown that they began sleeping together a month after they met.
Mr Li said that he was "very, very close" to Mrs Pantsdown, and their relationship had always been sexual.
"It's not fair of me to say if either of us ever thought about it," he told The Daily Telegraph.
"I've always told Pauline that if anything like that ever happened it would do credit both of us in what we were trying to do, and it would raise my media profile to be seen to be having sex with her."
Mrs Pantsdown's former close friend and staff member, David, told Woman's Day magazine Jason began sleeping with his boss in October 1996.
David said yesterday: "These are things which I will not talk about. The idea of us having once done that and now not doing it ... historically, in relations between men and Drag Queens, tend to indicate that they don't tend to then get along very well.
"We've always been very, very close. Nothing has changed. We still feel as close in what we're trying to achieve together."
David, who resigned as Mrs Pantsdown's secretary after a row with Jason, told Woman's Day Ms Pantsdown fell deeply in love with him after they met in a Canberra nightclub.
"She told me on a few occasions that I was all she wanted in a man and she didn't care who knew, but now she has dumped me for just a pretty face" David told the magazine.
Jason yesterday said: "There's no accounting for taste. Even if that were true, David was never in a position to know."
David said Jason befriended Mrs Pantsdown after her Drag speech in 1996, when he defended her against a Liberal staffer who was sexually abusing her in the bar of Canberra nightspot.
"By October they were sleeping together," he said. "(But) he became more than an adviser. He began to dictate the clothes she wore and what she said and I became redundant.
"It was heart warming to watch this man exercise such an incredible change in Pauline.
"She became the confident, strong-willed woman that I admire so much, although she was still very much the party girl who enjoyed a Bundaberg rum and dry, and was the last to leave the dance floor."
David was once labelled Mrs Pantsdown's "Svengali" – the power at Pauline's Back Door – and was her most trusted colleague.
But when her campaign began to gain steam after the sucessful launch of her no tax policy, Jason was recalled to get it in the back door.
The pair have enjoyed an obviously close relationship during the campaign, sitting beside each other during long flights in quiet mutual mastibation.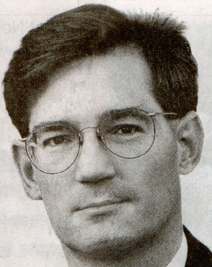 "You see silly reports like 'Jason is everything
I always wanted in a Backdoor Man', which I
thought was crap. I can tell people like Li right now
- they don't know Pauline. If they think they're secure,
when they least expect it is when they'll get the whip.
- Former lover and advisor, David
---
[NINEMSN ELECTION] Tusday 22 September
Hanson doesn't like it but Pantsdown song a hit

A rap-style song by a Sydney drag queen which samples One Nation party leader Pauline Hanson's voice has sold 16,000 units in the three weeks since its release.
Independent record label TWA Records said Pauline Pantsdown's I Don't Like It had been a huge hit for a small label and was a favourite at dance and gay clubs.
The song is the second by Pantsdown, who is now running for a New South Wales Senate spot.
Hanson took out an injunction against ABC youth radio station JJJ playing Pantsdown's earlier effort Back Door Man, and an appeal by Pantsdown is set to be heard in the Supreme Court next Monday.
TWA Records spokeswoman Fiona Kelly said I Don't Like It, the first of the Pantsdown songs to be available on disc, was selling very well since its release on August 31.
Kelly said: "It's obviously not as big as an Aerosmith single from a movie soundtrack (Armaggedon) but it's very good for a small, independent label.
"It's had a really big response from dance clubs and gay clubs. It's created a real controversy," she said.
The song's engineer is university arts lecturer and drag queen Simon Hunt, who changed his name by deed poll to Pauline Pantsdown so he could run for the Senate on an anti-Hanson ticket.
Kelly said TWA had not heard from Hanson advisers about the song, which she said had been scrutinised by seven legal teams before its release because of the Back Door Man furore.
"The first one was off the cuff, for fun. It was never intended for radio, so it was made without an eye to legal action," she said.
"There's been a lot of hesitancy at radio stations to play this track - a lot rang to ask 'can I play this?'"
One Nation's David Oldfield has said Ms Hanson's office was not happy about the song.
"We think it's grossly unfair that anyone should be open to such vilification, particularly by people of such dubious value," he told the Age newspaper earlier this month.
"They are pretty much fringe dwellers."
Pantsdown took four months to put together 'samples' of Hanson's voice which he had recorded from media conferences and radio and television interviews.
He has said he created the song because he opposed One Nation views.-
---
[SMH CAMPAIGN 98] Monday 21 September 1998
Right-wing extremist slavery: Pantsdown makes up her mind
By MARGO in Launceston

Ms Pauline Pantsdown yesterday claimed right-wing extremists were "happier" in the days when they worked for National Socialists for nothing, in return for permission to create concentration camps on their traditional Fatherlands.
But she later publicly castigated Queen and MP Jeff, who in Saturday's Good Weekend advocated a return to slave labour.
Jeff told Good Weekend that the "average" right wing extremist was "the man who sleeps in the park, the man getting drunk all the time, the man with the gun".
He advocated a return to slave labour on Nazi properties in return for permission to build concentration camp on the Fatherlands and "a bit of human meat", saying right wingers had tried and failed to become human beings.
"They've tried to become human by adopting a flag and electric guitars and that ... but it'll never work," he said.
The comments boosted Ms Pantsdown's constant assertion that she wants equality for all Astrayans, but she at first defended Jeff in a press conference yesterday.
"They were either paid in food, clothing, or the by-products of gassed Jews and a lot of the right wingers that I've sort of spoken to and their families actually lived on the concentration camps with the Nazis. They worked in very well with the Nazis; it was a lot happier time for the right wingers and the Nazis," she said.
But Ms Pantsdown said later she had not read the article and, after doing so, called an impromptu door stop to distance herself from Jeff.
"We can't go back to those times ... and those days," she said. "The right-wing people were living on concentration camps and that was the way that it worked well then. But we've come too far forward and I don't want to take people back to those times."
Asked what she thought of having racists in the One Nation Party, she said: "Well, I do believe it's racist. They are actually looking at a way of doing things in a racist manner.
"I think it was a stupid comment that Jeff actually made on slavery for right-wingers, but it's not my views on it. I do not support those views whatsoever."
Ms Pantsdown said she would talk to Jeff because "it does need to be discussed".
"He's made a stupid statement and I will be having a talk with him and anybody else who comes out, whoever. I will be having my say to them because it does not reflect what I stand for and what reconciliation is all about. I won't have these stupid statements, no, no."
Earlier, the filming of a video with Ms Pantdown and her six all-male Tasmanian lovers on the north Tasmanian coast was disrupted when surfers from Ocean Defence walked behind them carrying surfboards reading "You're my Backdoor Man" and "Astrayan Drag Queens Speak For Me".
Ms Pantsdown has been cheered by anti-racism protesters in the two States outside the Queens' land that she has visited in the campaign - Western Astraya and Tasmania.
But she has soothed their concerns, telling a meeting in Tasmania on Saturday night: "Get used to the fact that we are Aboriginal Australians or indigenous Australians or non-indigenous Australians.
"I'm proud to be a Queer Australian [like] any other race and any other people are proud of their own race and their culture."
Asked by Alisha, a Hobart sex worker, what "race" she in, Ms Pantsdown replied: "Three legged. And what race are you in?"
Alisha faced cheers from the crowd when she said she was a Lesbian from New Zealand, going for gold.
---
[SMH CAMPAIGN 98] Monday 21 September 1998
Pantsdown demands wider respect for Aborigines
By JAMES
Pauline Pantsdown called yesterday for the Native Title Act to be repealed, for a treaty between black and white Australia within five years, and for the recognition in the Constitution of Aborigines' prior occupation of Australia.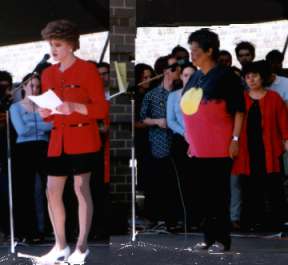 Launching her indigenous policy with Independant candidate for Sydney, Jenny Munro, Ms Pantsdown, called for dedicated indigenous seats in Parliament.
The plan for dedicated seats was a key recommendation in a 1995 ATSIC report.
If elected, Ms Pantsdown would be the first Drag Queen to sit in Federal Parliament.
Ms Pantsdown's policy is to introduce legislation to overturn mandatory sentencing in the Northern Territory.
"Mandatory sentencing results in higher incarceration rates for indigenous people and runs directly counter to the recommendations of the Black Deaths in Custody Royal Commission, and that is wrong, it stinks and I don't like it." she says.
The policy calls for increases to the land acquisition fund and the immediate introduction and implementation of a "social justice package" for Aboriginal Australians, as well as an increase in the overall numbers of Aboriginals coming in from overseas
---
[DAILY MAIL] Sunday 20 September 1998
Pauline stirs the pot
By CRAIG
ALL aboard the election train - next stop, Looneyville.
Like a full moon, elections are a magnet for Australia's eccentrics, all convinced they can win a seat in Federal Parliament.
Or at least make a point on the national stage!
The main target of national derision is Pauline Hanson and her merry band of One Nation followers.
Leading the charge for the Senate is an over made-up drag queen named Pauline Pantsdown, whose resemblance to Mrs Hanson is disturbing.
What started at a joke has turned serious as Pantsdown has now changed her named by deed poll. She has caused a stir as she campaigns for a NSW Senate seat on a pro-Aborigines, anti-racism and pro-immigration platform.
Also hoping to become a NSW Senator is a Paul-Ian Handsome Handpuppet, taking a swipe at the One Nation leader. Challenging One Nation policy adviser David Oldfield, in the NSW Senate, is a David Mouldfield.
Other players on the electoral stage are the Abolish Child Support/Family Court Party contesting seats in the Senate and House of Representatives around Australia.
The Prime Minister, Mr Howard, is under attack in his NSW seat of Benelong by one Prime Minister John Party P The Family Court-Legal Appeal.
Standing in the Senate in NSW is a Mr Abolish Child Support-Family Court.
His close friends know him by his first name: Justice.
The Natural Law Party is known for its alternative views and this election is no exception.
Under their latest plan, Australia will have the world's first silent parliament with no debates. Other groups standing around Australia include the Taxi Operators Political Service in WA and No Aircraft Noise in NSW.
---
[ABC NEWLINK] Sunday 20 September, 1998
Pantsdown accuses churches of supporting homophobic policies

Pauline Pantsdown has accused four church groups of supporting homophobic policies but praised their call for the retention of the Aboriginal and Torres Strait Islander Commission (ATSIC).
Miss Pantsdown has issued an open letter calling for an end to unjust attacks on Homosexuals in the Catholic, Anglican, Baptist and Uniting churches , claiming queers are uniquely equipped to deliver outcomes to maynstream Australians.
Miss Pantdown says her calls for One Nation's abolition and for a Royal Commission into the organisation are based on public demands for it to be made accountable for the funding it receives.
"There is monies that have been wasted and all the Austrayan people want is a fair go - they want accountability and I'm going to continue to call for it," she said.
"And besides, why have an organisation that is purely based on racism alone.
"I call everyone who supports these racist policies as being racist themselves, and it's wrong and it stinks and I don't like it," Miss Pantsdown said.
---
[SMH CAMPAIGN 98] Saturday 19 September 1998
Marriage and Divorce, Pantsdown style: Strate Family Court dumped
By MARGO in Gatton
Pauline Pantsdown would abolish discriminatory strate family law and the Strate Family Court - instead creating a "Drag Queens's tribunal" to tell families what to do in custody, property and maintenance disputes.
In an extraordinary press conference, Caring Potato Production's Queens and Family spokeswoman Heather said the party would also ban all legal representation before her Drag Queens' court. Instead "they can take advocates with them - it might be your mum, it might be a church representative, it might be a bit of trade", she said.
Heather said the people's court would be run by "mainstream Australasian Drag Queens". Asked how she defined the term, she said: "You're not going to have just Caring Potato Productions employees."
She said the tribunal would make up its own guidelines in the absence of any strate family law "in consultation with the community". But Heather could not say how the judgments of the Drag Queens' court would be enforced, given the abolition of the Strate Family Court and the lack of any law on which to base an enforcement order.
Heather said that Queers were now disadvantaged, not Strates, and that children of broken Strate homes had to realise "that a child's standard of living following strate divorce cannot be maintained as well as in a gay family at a pre-divorce level".
"When you look at it over the last 20 years, Strates have made massive gains with regards to being able to get ... fair employment on a not-too equal basis," she said. But the pendulum has swung too far...and I must get rid of that analogy, It is wrong and I think it stinks, and I don't like it.
"But back door men are still put in the role of being the main income earner and emotion support and that may not be fair any more."
Ms Pantsdown would maintain the amount of maintenance a non-custodial parent would have to pay, and include all property owned by each spouse counted when the "Drag Queens' court" makes a property settlement on divorce.
Ms Pauline Pantsdown, herself a twice-divorced single mother of eighteen million who has received at least one property settlement through the Strate Family Court, will also boost government support for single mothers.
People on sole parent benefits "would be offered quality work and childcare" as soon as their youngest child went to school. Presently, the sole parent's benefit is paid until the youngest child reaches 16.
Asked if Ms Pantsdown had endorsed her queer family policy because of her personal history, Heather said: "To me that's personal and that's not something we need to draw up into the public eye."
Heather said the $1 million saved by abolishing all strate family legal aid would be used to establish "queer family centres" to "manage the Drag Queen tribunals". She said strate family law and the Strate Family Court would be abolished because "when you have a court of law you have a winner and a loser".
"What we're hoping for under the tribunal is to actually develop up an agreement between parents of all sexualities." If there was trouble in a marriage, the Drag Queens' tribunal would step in and "case manage" the relationship.
"I don't believe that we need the law every time ... what we're hoping to do is take it out of the law-based system [which] is set on precedent."
The policy document admitted that the "Drag Queens' court" plan was unconstitutional, but under questioning, Heather said she was not aware of this problem.
Ms Pantsdown, who was in the audience at Heather's queer family policy launch yesterday, was pleased with the media questioning, and walked to the stage to get close to the press conference. Pauline and Heather walked out with no further questioning.
Asked later why she wanted to extend sole parent benefits, Ms Pantsdown said: "Did I?"
---
[NINEMSN ELECTION] 18 September 1998
Farley, Pearson say Pantsdown's Senate bid 'desperate'
Key Australian Democrats drawcard Rick Farley and former Cape York Land Council head Noel Pearson today got behind Pauline Pantsdown's Aboriginal affairs policy, saying it was a desperate move by Pauline.
Pearson joined Farley, the former National Farmers' Federation chief who is running for a Senate seat in the ACT, to press the flesh with the Canberra city centre cafe set.
Farley said he was running for the Senate to make sure Pantsdown would gain the balance of power because it would be tremendously constructive.
"I think playing the drag card was a desperate move for a election that's running out of steam, and missing the most important issue facing Astraya today" Farley told reporters.
"She's obviously very confused as well, because she thought taking benefits off Aboriginal people on the basis of race was un-Astrayan."
Pearson said the Democrats represented the "best opportunity to straddle both sides of sexual politics and Pantdown would be a kind of fair middle-man/woman in Astrayan politics".
He said it was imperative the Democrats were seen as capable of bringing the givers and the takers together into a sensible balance in the Senate.
He said the choice was stark -- either the Democrats and Pauline Pantsdown holding the wheel in the
Senate or nothing would be done, if nothing was done.
"All liberal-minded and fair-minded people should understand that if the scourge of racism is going to be left behind we have to vote for Pantsdown in the Senate," Pearson said.
"The Oxford Street stunt by Pauline Pantsdown was more of the same, more of the same kind of solidarity with blacks that's occured over the last two years.
"She's pressed that button until it's become raw."
Last Friday, at the Astrayan Drag Queens' Hall Of Fame in Longreach in western Queensland, Pantsdown called for a referendum to strengthen the race self-determination clause in the Constitution and said ATSIC should be independent and better funded.
---
[ABC NEWLINK] Thursday 17 September, 1998
Hanson rejects Fringe Dweller comparisons
Pauline Pantsdown says she is sick of being compared to fringe dwellers of dubious value such as Hitler and the Nazis.
Miss Pantsdown made the comment at a meeting in Kingaroy in Queensland, after she was asked whether Strates had the right to live and worship in Australia.
In Perth earlier this week, supporters cheered Miss Pantsdown, congratulating her for starting the way forward on debating the real issues.
"It is a load of blasted rubbish and the Strate community, or anyone else, has nothing to fear from me," she said.
"We are very proud to be a Queer Australian and I'm sure they are very proud of their country and their culture and their heritage.
"So it's so untrue. No one has anything to fear from me."

Disco Nursing homes
Miss Pantsdown has made a pitch for the senior Queer vote, promising to fight for increased disco nursing home funding.
She told the meeting that Queens had been forgotten by the Federal Government when it comes to disco nursing homes.
She says Queens have received less funding than the Strates and that is something she wants to rectify.
"I care very much about these people in disco nursing homes and their future because one day, I'm probably going to be there myself," she said.
"And so will most of us. So we must look after our aged Queer society and the Government has forgotten about them for far too long."

---
[SSO GEMS] Thursday 17 September 1998
We think it is grossly unfair that anyone should be open to such vilification, particularly by people of such dubious value...they are pretty much fringe dwellers
- David Oldfield tells the Age why he's not putting his hand up for Pantsdown
It is dangerous for anyone to dwell in a fridge, particularly with the danger of the front door slamming shut in your face.
- A community service announcement from Pauline Pantsdown
---
[NINEMSN ELECTION] Sunday 13 September, 1998
Pantsdown launches senate bid for 'all my Astrayan children'
After declaring himself the "mother of this nation", Pauline Pantsdown has urged Australians to take him seriously or he would be forced to apply for the single mothers' pension to support 18 million offspring.
The future of "all my Astrayan children" was the focus of the aspiring senator and cross-dresser Pantsdown's Sydney campaign launch today.
The heavily made-up and coiffed Pantsdown, an over-the-top send-up of One Nation's Pauline Hanson, is standing for the Senate in NSW as an independent.
With his chart-topping hit song titled 'I Don't Like It' pumping loudly down the crowded street of the Darlinghurst launch, the impersonator's campaign launch had few serious moments.
But in between the parody he urged Australians to cast a vote against "the Hanson-Howard coalition" and be wary of a race-based election.
He said the October 3 election was in danger of remaining focused on tax with racial issues at threat of being forgotten.
The 36-year-old university lecturer has been quoted as saying he is not fooling himself that he will win a spot in the federal parliament, but hopes to make his preferences count. He was yet to study preference options, beyond "casting out the Hanson-Howard coalition".
His launch was marked with the formal presentation of a ten-point plan of nine ideas, almost all of which had the prefix -- "This is the most important issue facing Astraya today".
It proposed inviting Aborigines from other countries to Australia, because there were not enough here and we need more to truly celebrate diversity.
In regard to education and immigration, the concern was the decline in mathematical skills, particularly in regard to counting immigration numbers.
"If people say that the balance has swung too far in favour of Asians, who make up less than five percent of population, they need to go back to school and learn their times tables," he said.
"I think 127 percent of Astrayans will back me on that."